Hi! I'm Jodi White and I'm an academic advisor and faculty in the Highline College Education Department.
---
General Information
Visit our homepage to see upcoming student Information Sessions.
To help keep us healthy, we'll be online and virtual through September of 2021.
---
Resources
Do you need help figuring out online and virtual learning? Help with technology? Check out remote resources.
Need support with emergency cash, housing resources, food access, college financial navigation? Check out the Benefits Hub.
---
What about money?
If you are interested in the Early Achiever's Grant, Jeremy Wilde is the point of contact. Please:
If you're not already a student, please apply for admission to Highline
attend a funding orientation through the Workforce Education Services office. You can find the dates and times for these here. If you cannot attend the orientation you can contact Jeremy directly at jwilde@highline.edu.
---
Academic Advising
Now, onto degree stuff! Highline College offers certificates in Early Childhood Education (ECE), AAS degrees in ECE and Paraeducation, and BAS degrees in Early Childhood and Elementary Education. Take a look at our programs.
Your adviser will meet with you, answer your questions, and help you make a plan so that you can move efficiently toward your goal.
I recommend that you choose an advisor based on your interest. Any of us in the Education Department can help you with general information but we do have specialty areas.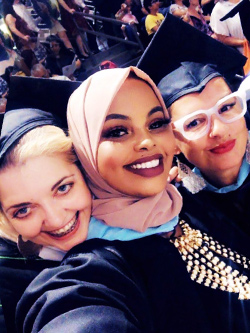 Jodi, Ikran, and Patricia at Highline College Graduation, 2018.
Jodi White (me!)
she/her/hers
English
Certificates and AAS in Early Childhood Education
BAS in Early Childhood Education
https://jodiwhite.youcanbook.me
Patricia McDonald
she/her/hers
English/Spanish
AAS in Paraeducation
BAS in Elementary Education
https://patriciamcdonald.youcanbook.me.
Ikran Ismail
she/her/hers
English/Somali
Certificates and AAS in ECE
I-BEST pathways
http://ikranismail.youcanbook.me.
If you already have an AA/S degree and are interested in the BAS that includes elementary education teaching certification for K-8, please make an appointment with Tanya Powers.
If you can't find a time to meet with one of the faculty advisors above, you can also get help through the Advising Transfer and Career Center.
---
You are most welcome to come any time during my scheduled office hours. If you have an appointment, then I see you first. If you don't have an appointment, feel free to come by! I'll see you in the order that you arrive as time allows.
Appointments:
When you make an appointment, it secures your time and means that we'll have a full half hour of time together.
---
---